I'm using the title I often see on other blogs such as
MckMama
(visit for some pics of her trip to Africa - I was showing them to Evan and I'm sure he will one day see that for himself) or
Enjoying the Small Things
. It is exactly what this post is about, with a lot of new pics sprinkled in. First off, I "broke down" and am using
photobucket
for the pics on here so they can be larger. I found, once again, trying something new is quite nice. I downloaded an upload (confused yet?!) application to iPhoto and it is working quite nice (and quick).
Well, I had an MRI today. I do not know any results yet, but this whole ordeal has yet again brought on some more insight. First of all, I realize I tend to put the horse in front of the cart too often. Let me start by saying that the worst part about this is my level of activity is being slowed down. I am not liking it. I don't exercise to be thin (as I was last thin when I was about 10 years old). I exercise to have energy and feel emotionally stable. No jokes please.
So, injury is a cruelty. First you cannot physically exercise and then to deal with the emotional struggle of that, you take away a tool that helps you, well, deal with the emotion struggle of that. Get what I'm sayin'?
So, I've been bummed. I told Joe that the next marathon I do will be in a wheelchair. Then I got to thinking about people who loose limbs or become paralyzed. Wow. I am sorry I did not spend more time thinking about that before. I need to just hush.
Well, I have been realizing a lot lately. No, not everything. And, a big NO, I am not better than anyone because my life has presented a certain experience that others' have not had. It just is this way. I want to be humbled (but it is a painful process). And, oh, have I been humbled. Do you think that means humuliated? Cuz that I have been lately too, in a big way. I am a judgemental, pretentious jerk that has to grow up in more ways than one.
You know what I love about growing up? It has the ability to strengthen. Joe and I are perfect examples of this. It is a Valentine's like no other. He and I are doing really well, and that is the first time I have been able to say that in too long. We have been together for...roughly 16 years. We have had to grow up. Together. We have been spending some long amounts of time talking. And, I mean anything more than 5 minutes is long, so when it has been an hour, I am amazed. We talked tonight about what we want to have happen to our bodies when we die. He wants me to bury him in the garden. I told him it is hardly legal but that assuming I am still around, I would want to do what he wants. So, he wants to be cremated and spread in the garden. I don't think that's legal either, but he asked if the cremation police will be out to check on us. Well, we had a good giggle over that one. Spending time talking was the best gift I could ask for.
"Also in the news": Calvin is still as cute as ever and giggled yesterday when I saw him after being gone for a few hours. That just made me think of my worry that he wouldn't know me as his mom. Well, talk about horse...cart. I am so grateful for his health and nursing and all the rest. Oh, and his eye appointment was great. His eyes are what any 7 month old's should be like!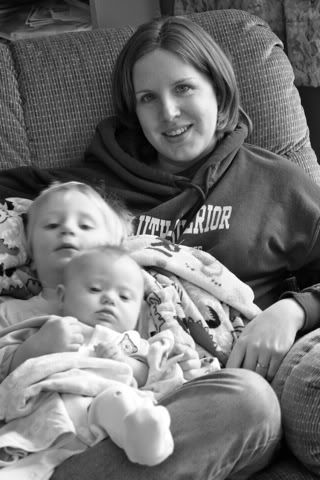 That is the blanket I made Evan: dinos on one side and jungle animals on the other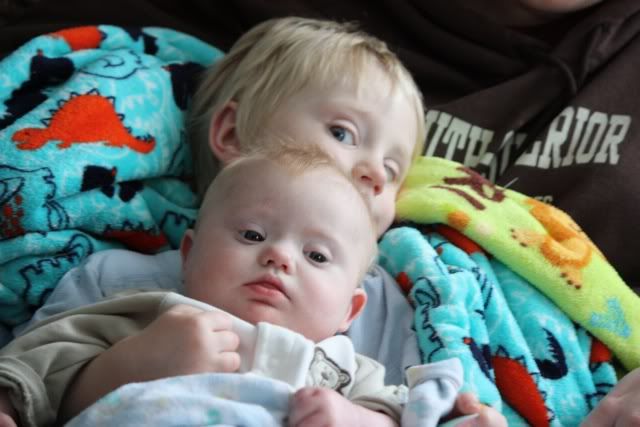 The following batch is from the other day when I attempted to get a nice one of them together. Well, they needed time apart more than time together.
I think this next one is a favorite of mine!
Evan is also Evan. Full of soon-to-be-five attitude and behaviors. I stayed up last night and made him a gee-gee (blankie) for his Valentine gift. He told me I am the best mom. Sure I am, until I don't do something in the future. But I'll take it for now. He likes it and that says a lot because his "ellow-gee-gee" is his fave.
The boys rolled in this little bit of water they found. It is just the beginning of a long spring...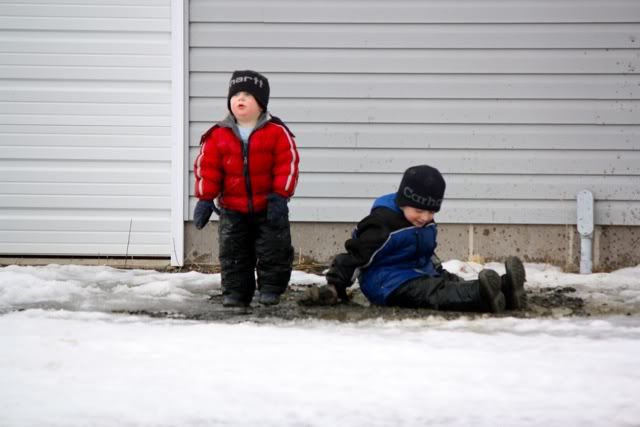 Brothers. When Nolan was born we joked about naming him "Brother Bear" cuz Ev was really into that Disney movie. Little did we know we'd have all three: Sitka (oldest), Denahi (middle), and Kenai (youngest). Here are Sitka and Denahi playing hide-and-seek and goofing off:
Denahi (Nol) usually does not hide, he'll count along with Sitka (Ev) and then yell "found you!"