We love puzzles! Evan can help with 1,000 piece puzzles. He can put together his own 100 piece puzzles. He loves puzzles. He will be 5 in 3 weeks!
Chrissy, Katie, Mom, and I love puzzle time, too!
I love this puzzle: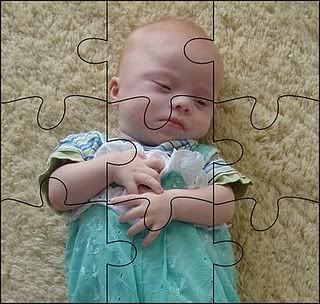 Do you remember
Cliff?
What if I told you he has a family committed to adopting him?! Exciting huh?!! I am very excited and plain old happy. I have a 'thing' for Cliff because the puzzle picture reminds me so much of Calvin. Guess what? This is Cliff more recently:
Cliff has a new name, too: Joshua. Joshua's family is hosting the following fundraiser:
click here for the puzzle fundraiser
. The PROBLEM for you, READER, is this fundraiser ends on the 14th, which is Monday. SO, WE HAVE TO ACT FAST! And I mean fast. A
recent post
describes that his adoption could be brought to a halt in the near future (meaning he has to be saved NOW).
Joshua's mom picked out a 500 piece puzzle and is "selling" the pieces. As each piece is sold for $10, she is able to put the puzzle together. The puzzle will be hung in Joshua's room. Very nice idea. It looks like they have a long ways to go so please consider helping out by purchasing a piece or letting others know about the fundraiser. Both would be even better!