Okay, I have some stuff on mind mind. Wait, don't click out yet...okay, you can if you want. However, if you want to "follow" my blog, or post "comments", I will help since I realize some of you may not know how. AND, I'd love it if you would. That way I know to keep going. Well, that may be the point, I should just be quiet! That's what Joe usually thinks, too. I usually think that too when I wake up in the middle of the night and cannot get back to sleep.
I digress. Okay, to become a follower (of my blog, not Jesus, though that's important too!!) you have to have an account: a google account is the one I'm familiar with, so I'll walk you through that...
Click
HERE
and fill out the form. It is absolutely harmless and you will not get spam or anything like that. It would be cool if you created a blog that I could follow...hint hint. Really!
Then, after you do that, come back to this page and click on the grey "follow" button on the right-hand column of my blog.
To leave me a comment (of any nature accept hurtful: it does happen and I don't like to be hurt, so that is my only rule) just click on comments at the bottom of the post (in the line that is a different color and after it says "posted by Ilisa Ailts on _____")
I look forward to comments and like to know what you're thinking, too!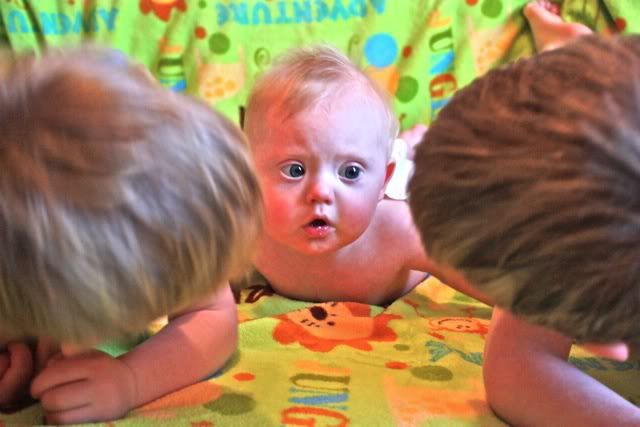 Okay, on to the next thing. I have been thinking A LOT about Calvin (just one of the many things on my mind). Should I be more concerned about him and his size and abilities?
The reason I ask is A) he is almost 8 months old and still in 3-6 clothes and not near filling them out B) he is not doing much large motor wise B) he is still not on solid foods
Wait, that was two B's. I am going to leave it that way because I really don't think I need to be worried. But, I don't want to be blind to anything either.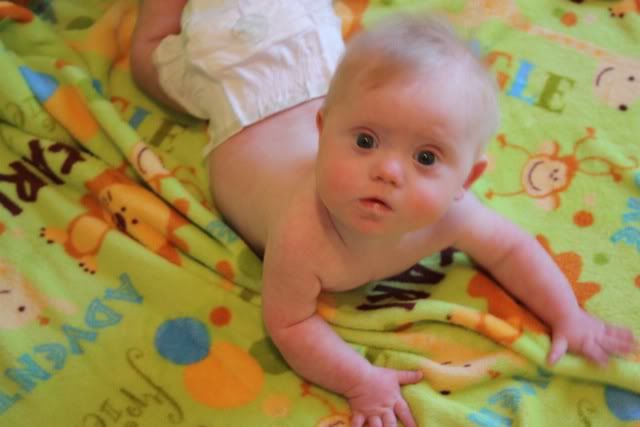 Calvin was evaluated by a physical therapist in the beginning of January. He scored fairly well and she decided against starting to work with him. So, the only therapy Calvin gets is Occupational Therapy. I'm honestly not even sure the exact difference between the two, OT and PT....I think it has to do with OT being focused on the overall well-being of Calvin.
Okay. So, Calvin's strengths are his curiosity and his fine-motor skills.
When I walk by things, Calvin is likely to turn and grab at things we're going by. He can grab stuff really quickly and enjoys looking and and playing with things.
He is not doing a whole lot in the large motor department. He rolls over, only one way on his own. He can sit unassisted for a very short pd of time. I think that is it.
So, my dilema has been about getting him more therapy. I have a referral from my doctor from that whole neck thing at the Down syndrome Clinic (he tilts his head). He does not have any issues though, but I am going to get a second opinion. The problem with OT is just that we have not had luck with his mood when she's here. He is crabby and ready for a nap. So, we're going to switch times starting next week. Other than that, she is really good and we've just been dealing with outside circumstances...
Thanks for listening, and come fly, I mean, follow me and comment away!