RE-POST: One week left for the Amazon Kindle Giveaway!
I am very excited to present to you Ilya's 5/5/5 Warrior Project:
As you heard, I am precious Ilya's 5/5/5 Warrior and I could not be more honored!
Ilya's 5th birthday is in June. He has gray eyes and red hair (like all my boys do/did!). He has a calm personality and his medical needs are not known to me.
He is adorable AND HE NEEDS US! I mean NEEDS! His life depends on it. He needs two miracles: a family to adopt him and the money to support that adoption so a family is not held back by the expense ($33,000).
Where to begin? I am going to assume this is new to each and every one of you...
Children in Eastern Europe are generally not welcomed into their society when they have disorders (and even some diseases, such as HIV) like Down syndrome. In other words, children like my Calvin are deemed worthless!
Those who are given the chance at life are commonly sent to orphanages. Some are taken from their parents. Once in an orphanage they are not rocked, hugged, carried around, held during feedings, played with, or given the therapy they need. They learn rather quickly that crying will not lead to help.
I am tearing up just typing this...
You must know that every child deserves love and affection! Ilya has not been given that! He will be 5 in June.
Life in an orphanage is one thing. Life in a mental institution is another.
Children transfer from orphanages to mental institutions around the age of 5. Treatment in those places is even less desirable than orphanages; tied to beds (yes, tied to beds so they cannot move - muscles become atrophied and coping mechanisms such as head banging kick in), drugged, etc. Do you think they are bathed? Do you think they are read to? Talked to? Sung to? They are not.
Ilya will be abandoned to a life of grief. He will die a slow and agonizing death. A life without: love, family, experiences, nurturing. He will die alone.
How can we let that happen?
As I said, he needs two blessings. He needs a family. Could it be yours? If not, he desperately needs funding, I pray you will step forth.
Finances should not be a factor for the family whose heart desires Ilya.
So, I am here to help! YOU are here to help!
I will give that to one of you! And, it will be shipped directly to you from Amazon.
Here is how to enter in the give-away*:
Leave me a comment (click on "comment" in the post's footer) on this post if you:
Donate towards Ilya's adoption by clicking on the "Donate" button on the right-hand side of my blog OR the 5/5/5 Warrior button that shows Ilya's adorable picture.
Blog about this give-away (leave your link in your comment).
Spread the word about this give-away and/or the walk/run event: post this on Facebook, Tweet or email about it (in your comment, tell me how you spread the word)
Follow my blog. If you're new, sign up to follow. If you already follow you can still leave me a comment!
Pre-Register for the Deer Park 5K walk/run or 5 Mile run (tell me in the comment that you are registered).
*You can do all 5, select some, or complete 1 of the 5 to enter in this give-away. You do not need to donate to enter.
*You must enter a comment on this blog post to be entered in the give-away!
*Leave separate comments for each thing you do. You can be entered up to 5 times!
This give-away will close on July 2nd (day of the Deer Park 5K/5Mile event) at 6pm central time and the winner of the Kindle will be chosen by
Random.org
. I will announce the winner by the following morning.
Here is how to join us for the 5K/5Mile event:
Print the registration form off Raceberry Jam
Please email me with any concerns regarding the form at ilisaa(at)frontiernet(dot)net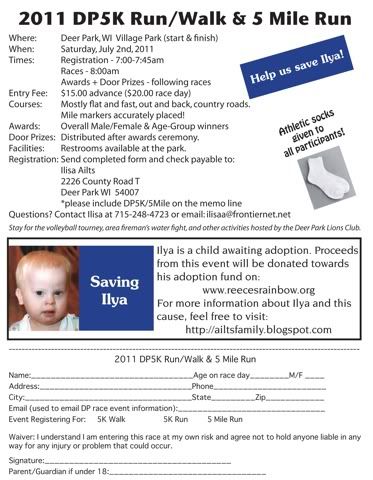 Questions/comments about either the giveaway or run/walk are welcome. They will be scanned due to this being the post for the giveaway.
Thank you!
***One of the door prizes for the race is a pair of Minnesota Twins Tickets (generously donated by St. Croix Press) - must be present to win door prizes!