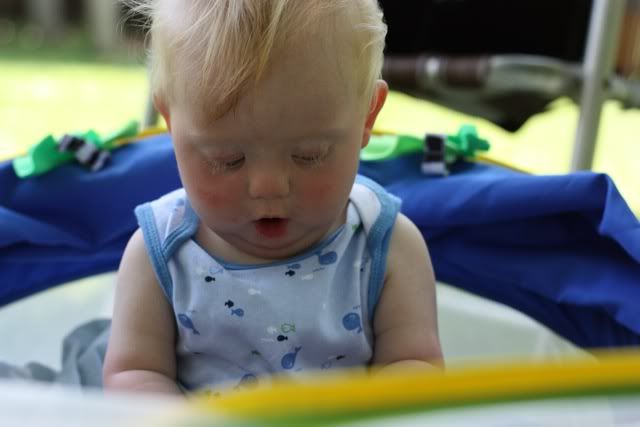 Of all the descriptions used to describe Down syndrome, the only one that still makes my heart quicken and my stomach flip is an average life expectancy of 60 years.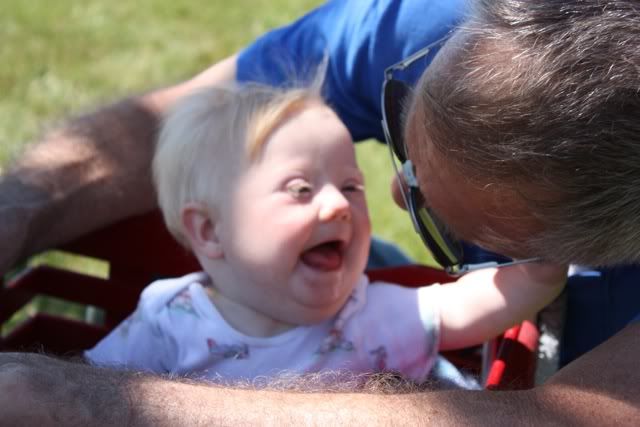 I may or may not be around when Calvin is 60, assuming he lives that long (of course I am aware a)he may live longer and b)our life expectancy is simply unknown, syndrome or not). The fact that he has Down syndrome does not make the thought of his passing any easier than the thought of Evan's or Nolan's.
When Calvin tips over in the tub, my heart nearly explodes out of my chest. I was scared about Calvin coming out of heart surgery. I will cut his food into just as small, if not smaller pieces than I did his brothers'. You know that force that exists between a parent and child when the child cries? The one that disengages all other senses and pleads for you to swoop in and save your upset or hurting child? I am happy to report it is just as strong, if not stronger, with Calvin.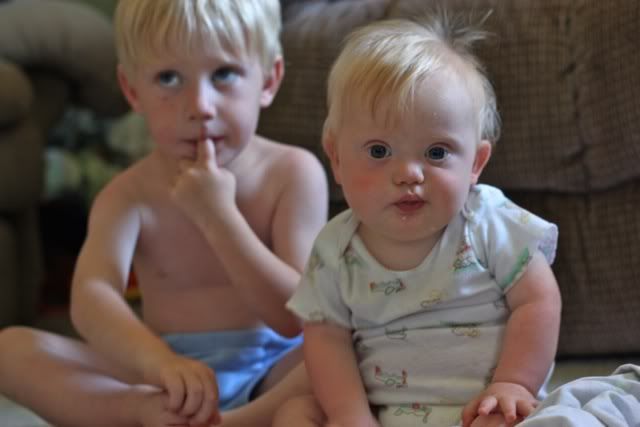 My natural desire as Calvin's mom is to see him live a healthy, safe, long life full of love and support. That is exactly what I pray for his brothers as well.
I left Children's Hospital on May 20th, 2010 and immediately called Joe (he was in California on a work trip). I cried and could barely choke out the words. I had to read the piece of paper that said "complete AV canal heart defect". I did not even know what it was. I could hardly go any further. I told Joe about the possibility our son had Down syndrome. Down syndrome trumped a heart defect?! I had so many people say they would be more concerned about the heart. I wasn't. You know what our questions were?
"How long is he going to live?" "Is his life expectancy shorter?" I was a mile away from the hospital and that is what these expectant parents were discussing. In other words, it was the top of our concern list surrounding Down syndrome.
It hurt. We loved him, that is why it hurt. We would not love him any less because he has Down syndrome (Ds), and that is why it hurt. Some people choose not to continue their pregnancy once they find out their unborn child has Ds.
An
amniocentesis
can be performed as early as 15 weeks gestation (mine was 28) and the "fetus" can be aborted (each state has laws as to how far along the baby can be). Many mothers have begun to feel their child move about. They feel life. This has deterred some women from the pending abortion. What if a test could be conducted as early as 8 or 9 weeks of pregnancy, before other people know or notice or before the parents can feel the baby move? Would the child be easier (in the emotional sense) to abort?
The answer is 'yes'.
Such test is expected to be available next year AND it will be a less invasive procedure: a blood sample collected from the mother.
I will continue some of my thoughts in "Comfort or Conflict": Part 2