"Speak up for those who cannot speak for themselves, for the rights of all who are destitute. Speak up and judge fairly: defend the rights of the poor and needy." (Proverbs 31: 8-9)
Human's are created in God's image. This makes us different than plants and animals
and
includes people of all abilities, shapes, sizes, races, ethnicities, etc.
I also believe children are very special to God. I know people with Down syndrome are of no exception just as people with blue eyes, blonde hair, crooked teeth, or freckles are not. It is all a matter of genetic make up - environmentally impacted or not.
I do not believe there is a distinction between a "fetus" and a "baby" other than a medical explanation to define the stages of development. A fetus in no less human than a baby. God has a relationship with fetuses and babies.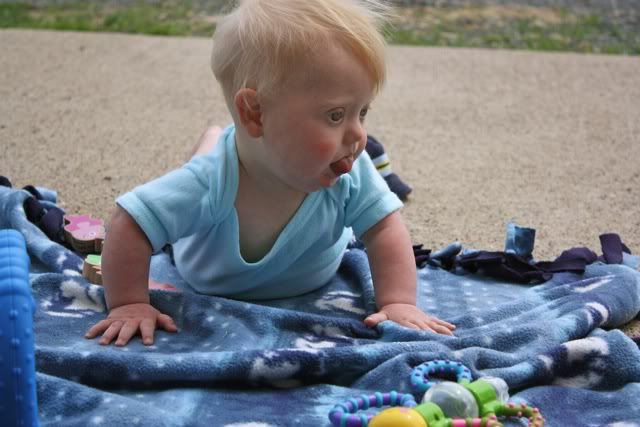 For you created my inmost being; you knit me together in my mother's womb. I praise you because I am fearfully and wonderfully made; your works are wonderful, I know that full well. My frame was not hidden from you when I was made in the secret place. When I was woven together in the depths of the earth, your eyes saw my unformed body. All the days ordained for me were written in your book before one of them came to be. (Psalms 139: 14-16)
How awesome is that? It brings tears to my eyes and goosebumps to my skin. We are so special!
It is not my place to judge.
When they kept on questioning him, he straightened up and said to them, "If any one of you is without sin, let him be the first to throw a stone at her." (John 8:8)
God forgives us of our sins, all of them.
If we confess our sins, he is faithful and just and will forgive us our sins and purify us from all unrighteousness. (1 John 1:9)
======================
The lead pastor of church recently pointed out how we tend to spend less and less time in deep thought because it takes...time. We are used to such a fast paced way of living and have a lot of knowledge at our fingertips: quick access. Therefore, we find an answer and likely move on, investing little in thought or growth.
I watched the
video
with
Erin
and the Associated Press regarding the new 9 week blood-test for Down syndrome. In the past I may not have thought deeper about the topic even with Erin and Grady on the screen. I may not have thought past the phrases "a down syndrome pregnancy" or "a risk of a carrying a Down syndrome pregnancy". I likely would not have considered whether or not Erin has a relationship with God.
There is a gift Calvin has given me. One that, since I choose, coaxes me to dig deeper and wider ("deep and wide, deep and wide, there's a fountain flowing deep and wide").
Now I know that there is no such thing as a Down syndrome pregnancy. And, Down syndrome is not a risk. God is in control and knows what He is doing.
We have a choice. Choices are usually called to be made in the thralldom of great emotions. It hurts me to think of parents sitting with a doctor after having this blood test: The mother having known of her pregnancy for less than a month and becoming very sad and scared of having a child with Down syndrome. I know, because I too was devastated and burdened with great fear that still tries to torment me.
However, God has given me a child who was fearfully and wonderfully made.