We have not been to church in 2 weeks and I miss it. Joe went out fishing early with his dad and I could not get organized enough to stay ahead of the boys. They were on a mission this morning.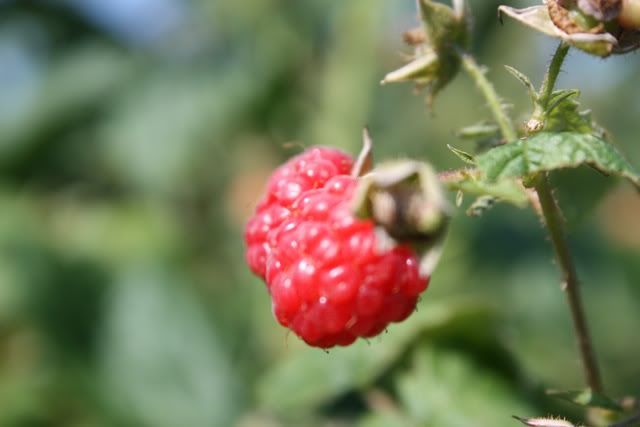 First off, Evan went out to pick raspberries and came in with tears running down his cheeks. I could tell it was an emotional reaction to something. After some questions with no answers, Evan said "I don't want to tell Dad I picked a blue flower". I asked him if he was afraid Dad would be mad. "Yes." I reassured Evan he did the right thing by telling me. I found out it was a tiny blue one from our deck barrel and it was not picked today. His conscience was bothering him. I reinforced the rule that we do not pick flowers and veggies just to be distructive.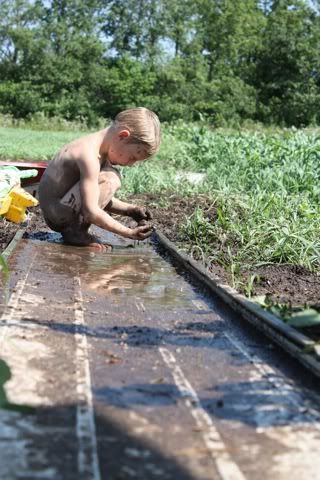 Evan asked me if I ever lied as a kid. I told him yes, but that I realize it hurts people so I do not want to lie anymore.
There are tough times in parenting. I want to protect Evan from all the bad that can and will happen in his life. Yet, more importantly I want to teach him how to handle temptations and pressures and other tests that will come his way. I believe the key is to turn to our beliefs.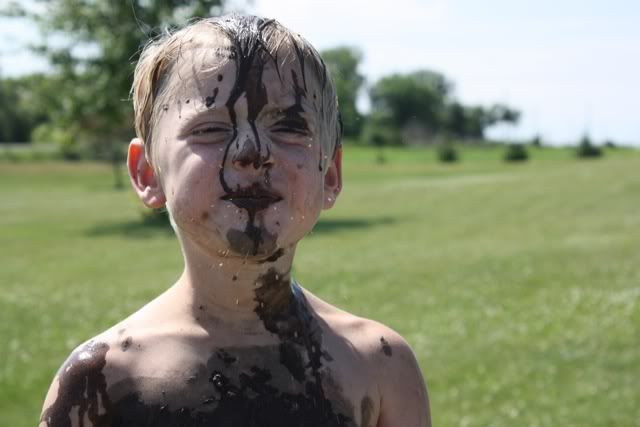 I feel it is important for everyone to have beliefs. I am not just talking Christianity.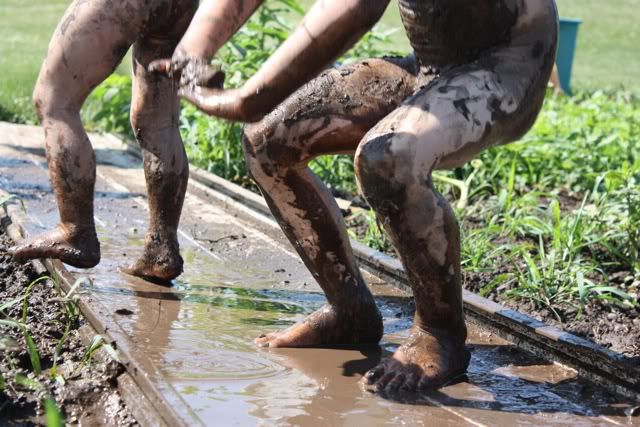 I believe it is important to make children feel secure and that was my first priority with Evan. I think that by getting mad or punishing him in this particular situation, I'd be asking for him to loose his trust in me as his teacher.
Jesus was a teacher.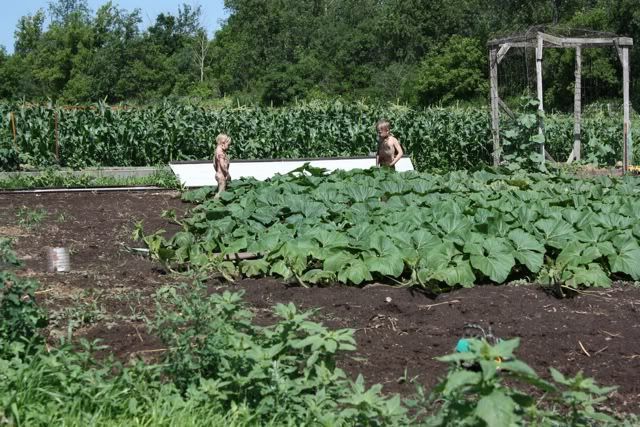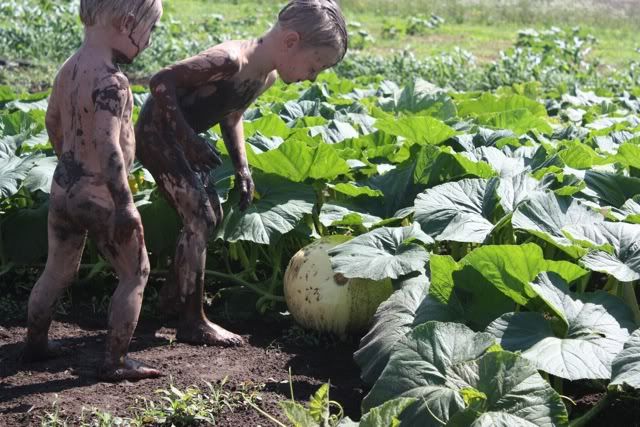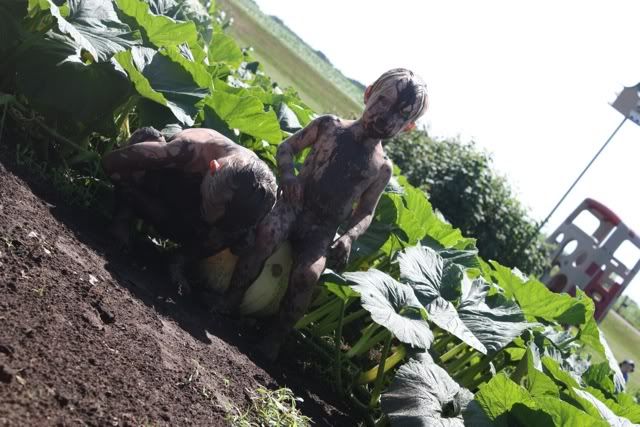 Teaching is a challenge because there are so many ways and ideas. In some ways, I feel bad that Evan is my guinea pig.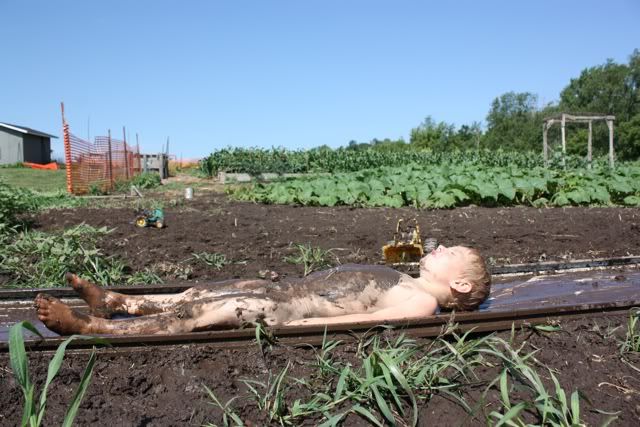 I was hoping the mud would cover the boys' boy parts...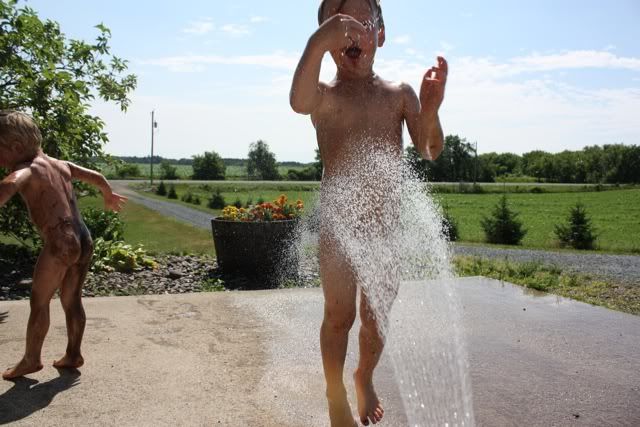 He is a good kid and a loving big brother. I want him to be a kid, not the adult I sometimes push him to be. I want him to allow himself time to learn and grow. There is a part of me that is so proud of him when he expresses his feelings.
In other news. This little man, whom ate his first raspberry this morning, is doing some amazing things! He has turned his "aaaaahhhh" complaining noise with "ma ma ma ma" pretty consistently. It sounds a bit like "na na na na" which is fine, too (His grandma's can consider it a call for them). Plus, it is becoming more that just a complaining noise. I think he realizes he gets my attention with it.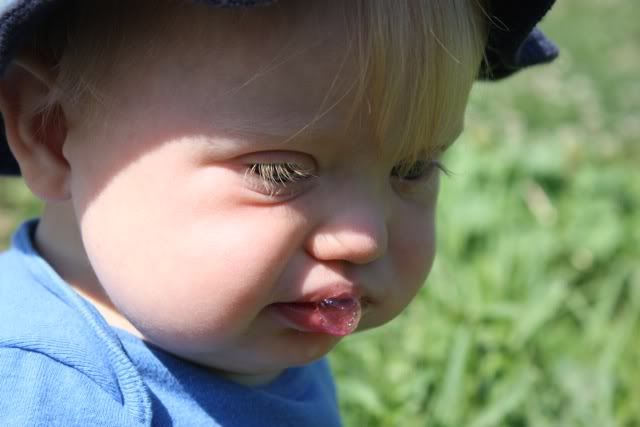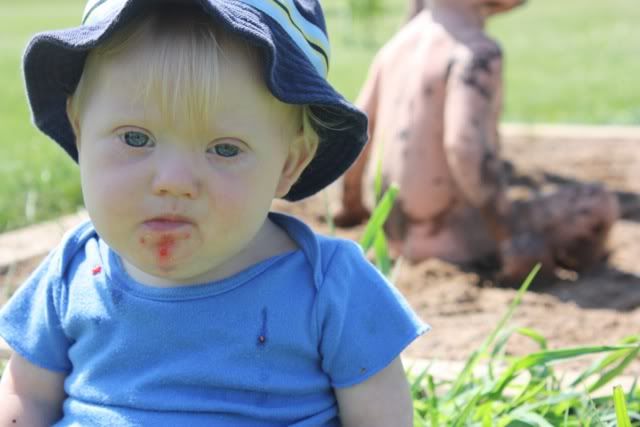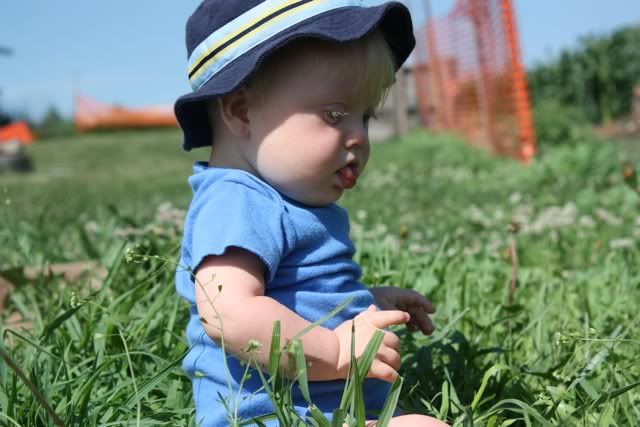 Calvin is also clapping and rocking when on his hands and knees (separate, no stunts going on here). He still needs support under his tummy but not as much as a week ago. I do not think it will be long before he is on all fours on his own.
He is so amazing. Not because of what he physically does, but there is something so special about him. I see it in the way his dad wants him. I see it in the way Nolan is so excited to see him in the morning. And in the way Evan sits by him when he is starting to become unhappy about something. Most people in Calvin's life are drawn to him, and it is not because they feel sorry for him. I think we are all searching for what he can reveal about ourselves. I am not a know-it-all because of having Calvin. I'm further from wrong but no closer to right - a twist to Seether's
Truth.