I feel bad that I have not posted much lately! It goes along with what I have going on around here. I am nesting. I told Joe that yesterday and he said "great, you're pregnant again" and there was not much enthusiasm there. Thank goodness that is not the case, then! No, I am having a different kind of life change coming up.
I go back to work on the 30th. That is ONLY (ahhh!) about 3 weeks from now.
Okay, breathe.
I am a bit anxious about this. 3 boys. Nursing/pumping. Daycare. Time. Appointments. Marriage (this take focus, too). Kindergarten.
Evan: Evan has grown 2 inches in the past 12.5 months! That is amazing! He is looking more and more like a Kindergartner. I think he is ready. I am, too. He is, so I am. In a way I am so preoccupied with going back to work that I am not too focused on his big change. I care, but I am not fretting over it. He is going to "the Tiger school" as he says. That actually is helping. However, we have yet to step in the school, so I'm holding my breath on that one. He is maturing so much.
Evan is very proud of himself. He has been riding his bike without training wheels since the 4th of July. That evening we headed to the track for a work out and he brought his bike. I had just put these cheap training wheels from Target on it. JUNK! They broke off and he took off. I guess it was a blessing in disquise. He has been 2-wheeled since :)
Tomorrow he starts Bible School and he is looking forward to his/our dentist appointments on Monday.
Evan continues to be a great big brother to Nolan and Calvin. However, he does still say he wants a girl baby here (will follow up with in the page
Kids Say...
).
Nolan: Nolie, Noonan (as he calls himself), Tilly, Tiller, Tiller-Biller will be 3 in 4 weeks! I remember his birth so well. I'll share more then. Nolan is appropriately nicknamed Tiller as he tears around, ripping up his surrounding. But that should not deter someone from him. He is the most sensitive, caring boy who happens to have a lot of energy and a high pain tolerance! Nolan's vocabulary is growing nicely and it is so fun and cute listening to him and talking with him. He loves to sing songs, like "B-I-B-I-E, that's book for me, stand awong on word of God, B-I-B-I-E!" Too cute (yes, I know it's b-i-b-l-e).
Calvin: We focus so much on his development and health, we don't always focus where we should: him as a person. Yes, he has fluid in both ears now and needs to go back to the ENT for more monitoring (not red or irritated, so we're still not worried). Yes, he struggles with spit-up now and then and needs to grow a bit. However, he is more than his health. He is a brother, a son, a cousin, nephew, grandson, friend. He likes balls and playing catch. He likes rocks and grass and sticks. He wants to be held and talked to. He laughs. I cannot explain what it sounds like. It strikes emotion in me in a way I do not feel from other sounds.
I love my boys. I do not love being so busy, but I love watching them play and experiencing life. I love when then run run run and when they snuggle up with their dad after a hard day of play.
This is what we did for fun in South Dakota: We swam every day. We saw animals and rocks and snakes. We drove, rocked out, swam in streams along side buffalo poo, and watched movies. When people ask Joe and I about the trip, we say we enjoyed it but it was a lot of work just keeping them safe. It was for them more than us. And for now, that is okay. We benefit more indirectly. And now, here's more:
(Following the dino adventures from the previous post) We saw Mount Rushmore, adorned with state flags:
We saw daddy prong-horns: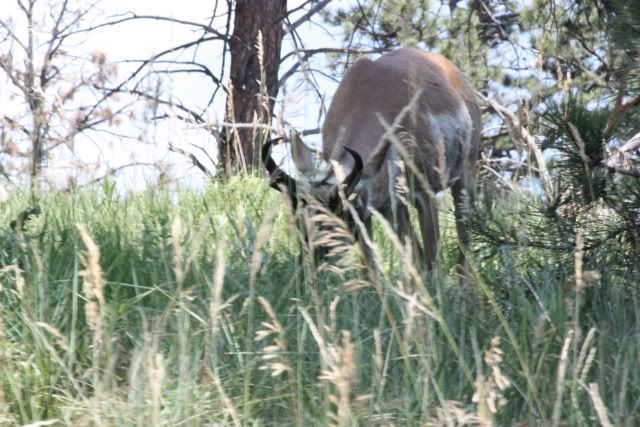 We ate and swam in streams with our clothes on: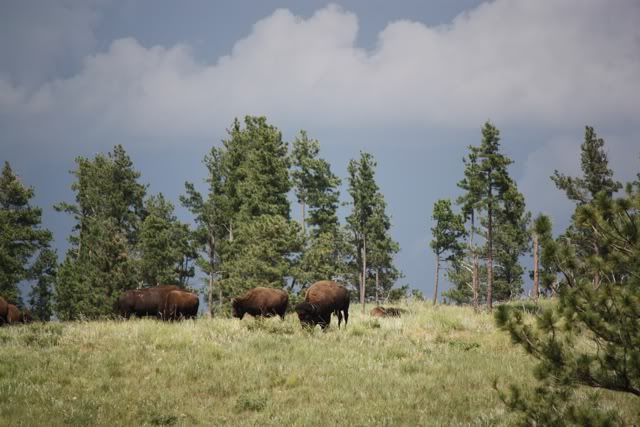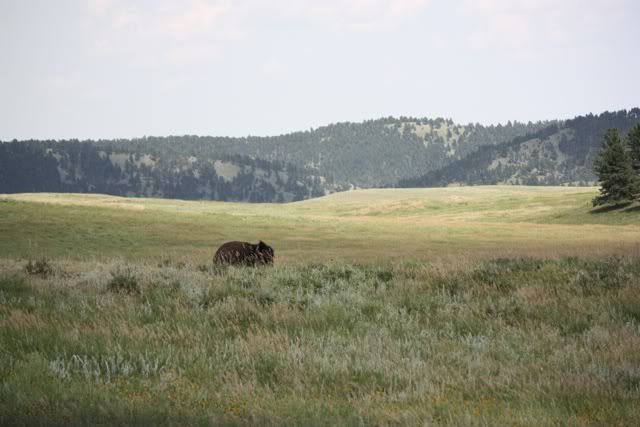 We fed wild donkeys: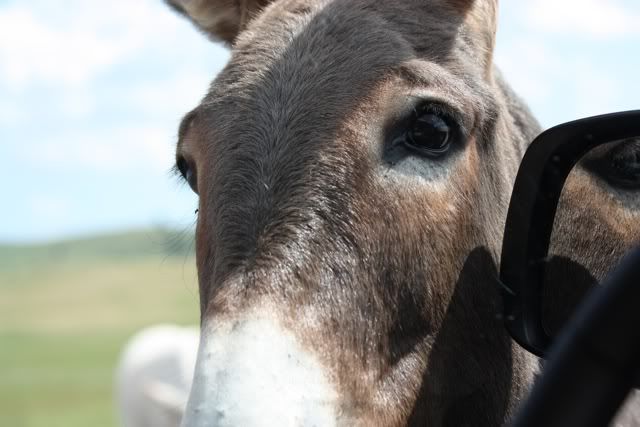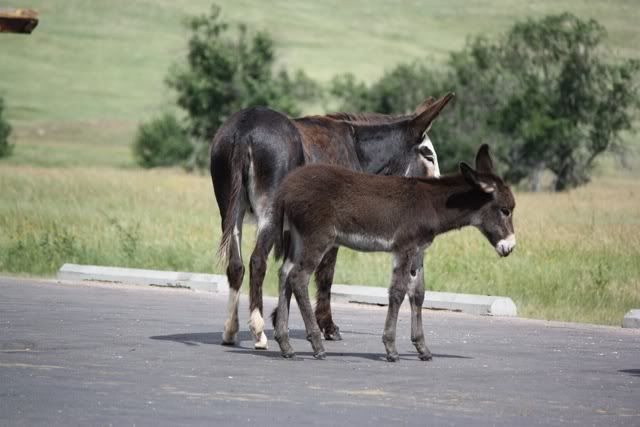 (it is universal: nursing)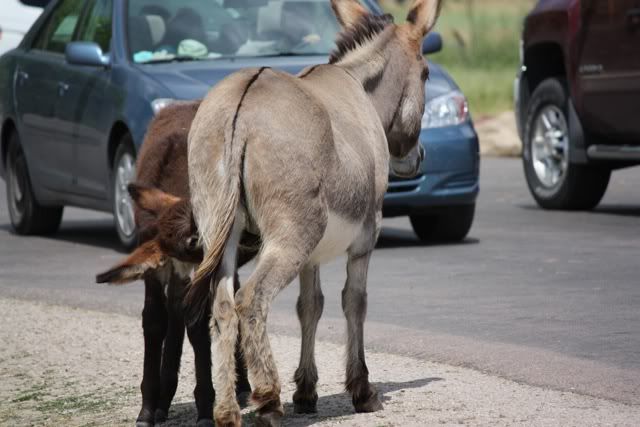 We camped: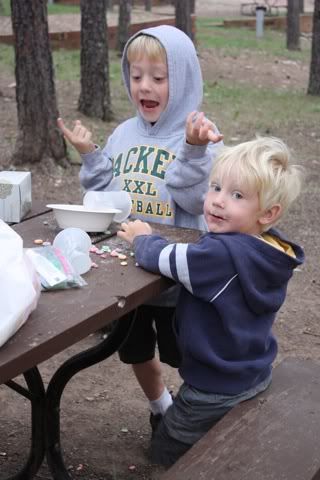 We enjoyed gifts for being good in the car: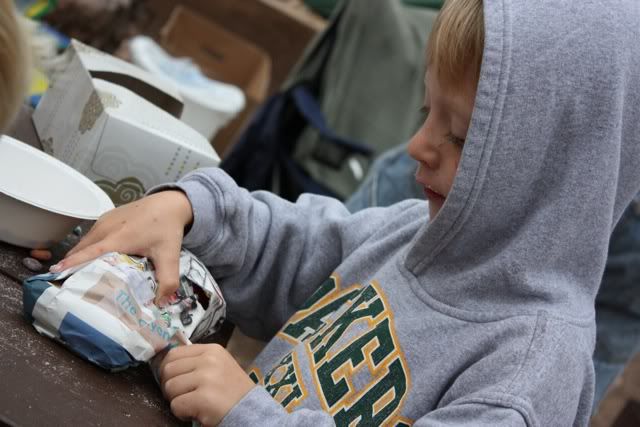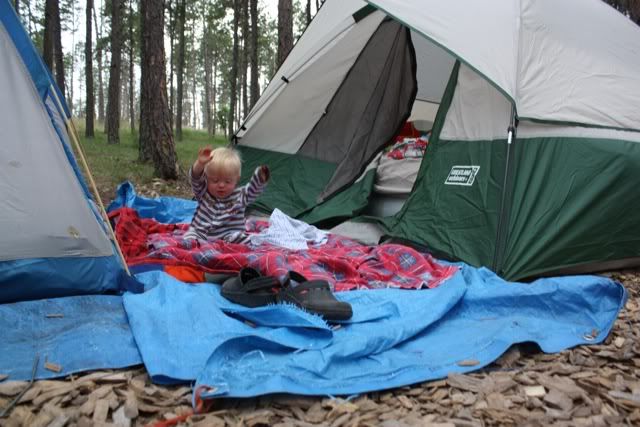 We played in our PJ's: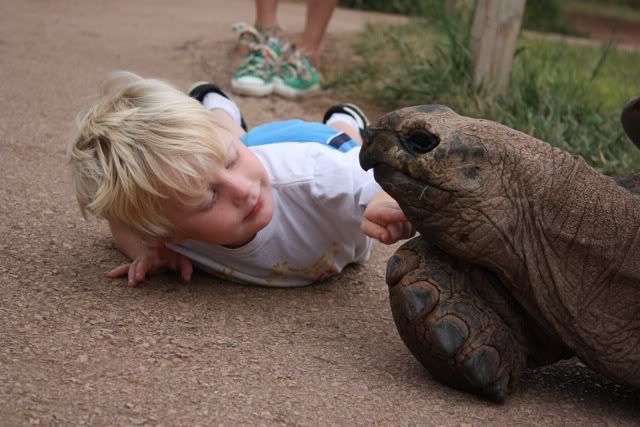 We became tall and skinny in the silly mirrors: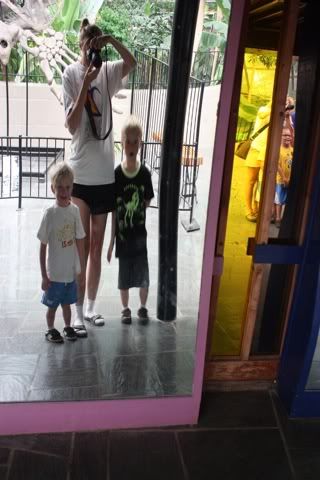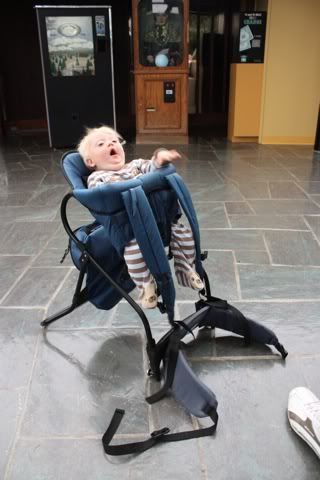 We visited the mammoth site in Hot Springs and enjoyed a treat: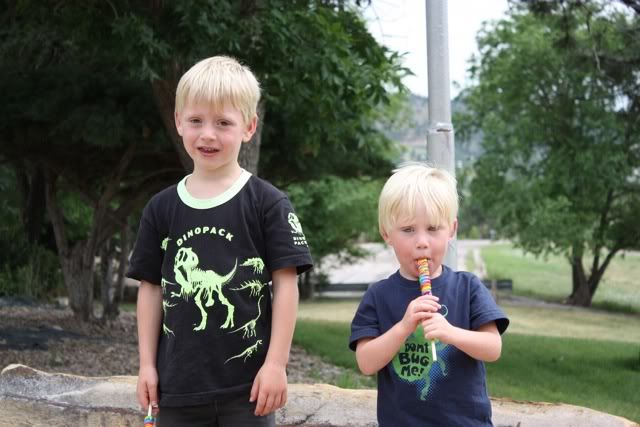 We ate hotdogs and grapes after swimming: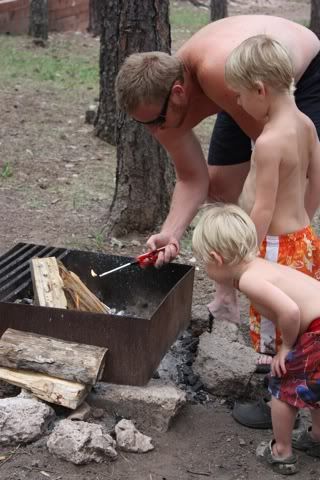 (I notice I enjoy the "tongue pictures". They are full of character)
(Evan took this one of me and Calvin ready for bed)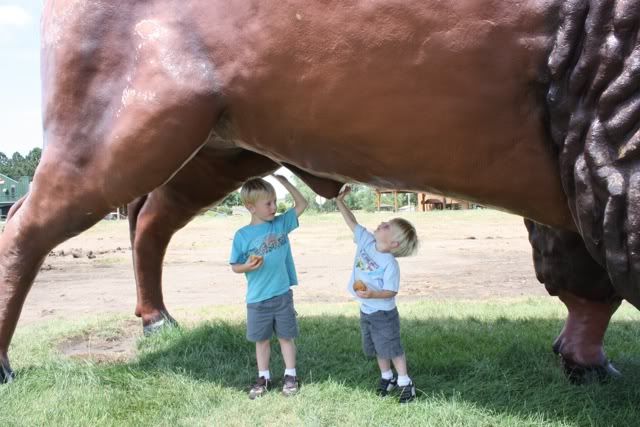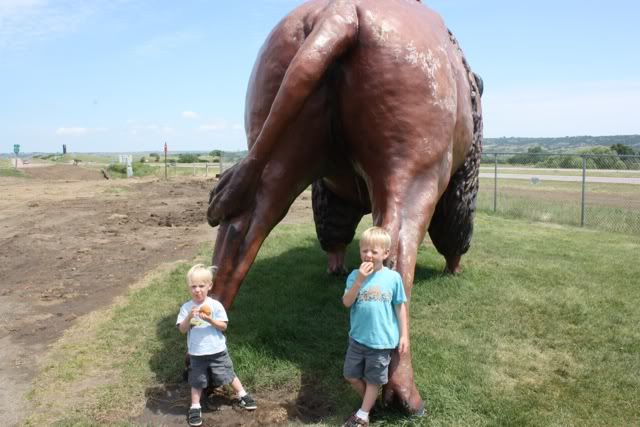 THE END