I have lots to write. It has been a very busy and emotional week for me and many others. We had Angel's funeral today and her visitation last night. By the way, that picture in the previous post is of her holding me.
Angel was the oldest cousin on my mom's side.
She was a tough woman. She was also very active. Her service was one of the most moving I have ever been to. There were many family and friends and roughly 60 service men and women present. Angel was a firefighter and a member of the EMT. She was passionate about helping others and it was evident she touched many people. It was neat to see today, it was a celebration of her life.
This has been a very different death for me. I have not cried a whole lot. I have been thinking about that. It is not that Angel did not mean a lot to me. It is not that her life was not held as significant by me. I think and think about her and death and what it is like. I pray and pray for her husband, children, sister, and everyone else who loved her deeply and is suffering and in pain.
However, Angel is not in pain. She is exactly where she wanted to be. With Jesus. I do not doubt that and I hold on to that when I think about what has happened.
Sure, people could have used her longer. She could have lived life out a bit more. But God does not simply leave a path of destruction.
I am tired, so I am going to end here. I find it difficult to express what I am thinking and feeling. Maybe it is because something like this takes us all over the place in thought and emotion.
__________________________________________________________________________________
Photos from last week (some of them to start with):
"Here a bear, there a bear, everywhere a beary bear."
This is a bear. This is behind our home. (the date is not right, it was last week)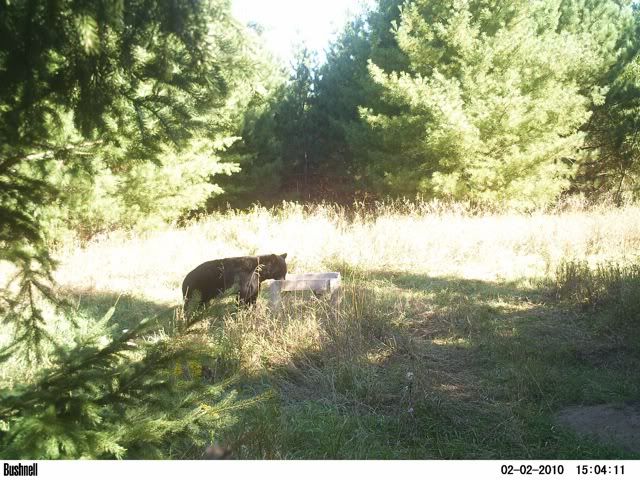 Last Friday my brother-in-law, Dan, shot a black bear a half a mile from our home. There are many around here.
I have seen them out on my morning jogs, during evening walks (the first time I saw one Evan was about 1 and we were out walking together - a different bear siting than the time we saw a cinnamon one in Glacier in summer of 2008), and evening drives.
They really scare me but do not stop me from running. I just run faster.
Here are some photos of my sweet boy. I wish he was as healthy as last weekend :( He, along with his brothers, have upper respiratory issues: eyes, lungs, noses...poor boys!
These pictures make me smile!