I have another post that I may or may not publish. It is so boring! All about how burnt out I've been. Basically it sucks. Tired would describe me and why I'm not here much lately. I should be in bed and when I'm not, my time is precious and I am picky about where I spend it.
So, a quick sentence or 2 on each of the boys and some pictures to show the good ways of spending the little time I get with them. Makes me sad...okay, here it goes:
Evan is doing well. School is great. His teacher emailed to tell me he is doing well and is a nice boy. That is all I ask for - nice! The Lord knows teachers appreciate that!
Nolan is loving daycare and his playtime with the kids there and also with Evan. Sure, he pokes and prodes and pushes buttons. Nolan is so sweet as well! He is now in the process of wearing a mouth-gaurd looking thing from the dentist whom has the hope that it will pull his lower jaw forward. He wears it at night and a couple of hours during the day. However, the daytime is tough because "I can't talk!". Nolan is, as I've said many times, something so special to me. They all are, but he is just exactly who he is and does not analyze it. Unlike me...
Calvin is doing okay. Sleep still sucks. He had an ear infection 1.5 weeks ago and we go to the ENT on Tuesday. Cal is moving around like crazy. Standing longer, making lots of noise, and starting to get up from sitting more. Not yet pulling up but soooo close! He is the perfect little brother!
Ready for a jillion pictures?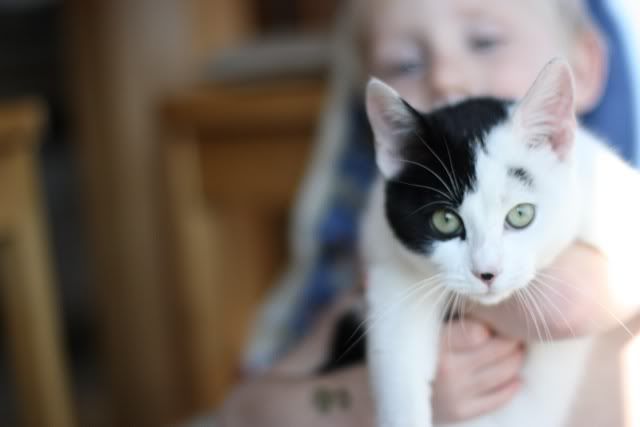 Kitty, then pics at my parents for Thanksgiving. Of course we were celebrating the Packer Game as well!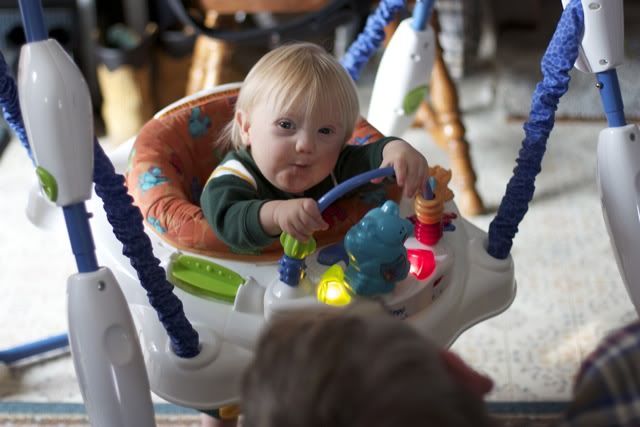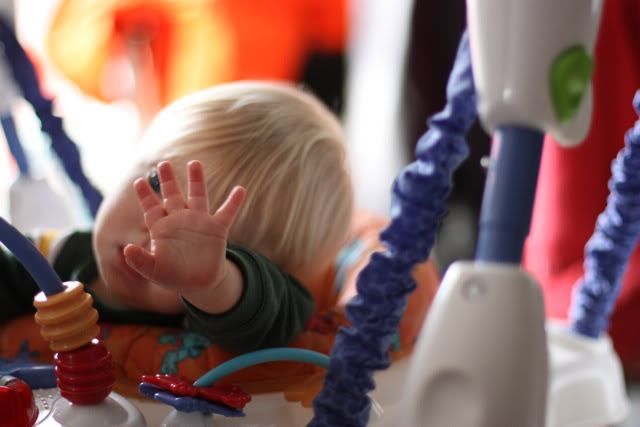 Here you go, Cousin Adam. Peace offering?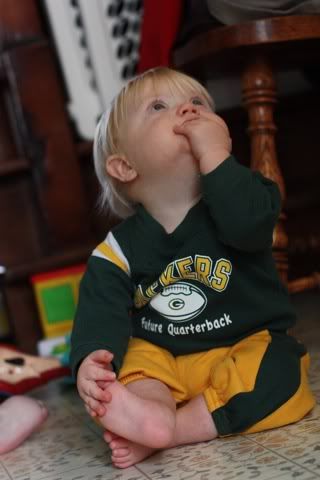 Ah, forget that peace offering, I'd rather keep violating your personal space, I mean face!
Cousin Adam is 9 months younger than Calvin - he's a big boy, ready to take on this intruder!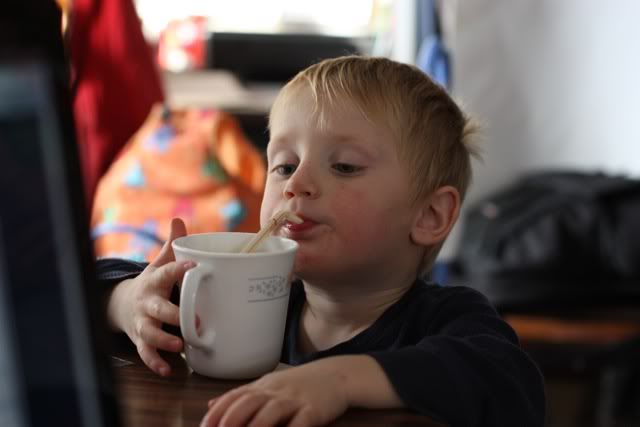 A little hot chocolate for my Tiller.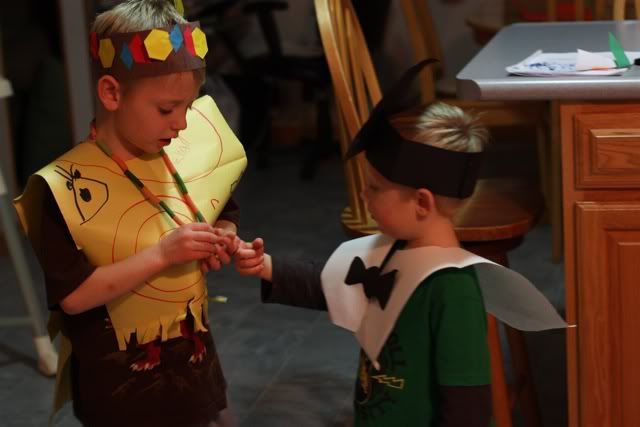 Ev was very proud of his work at school. He was happy to wear his "state of american" costume. I worked on that one...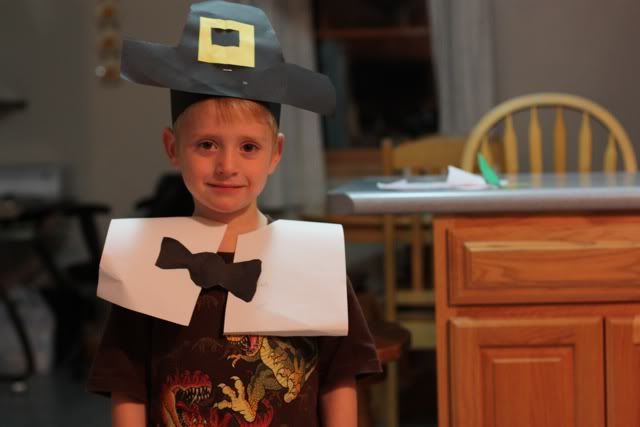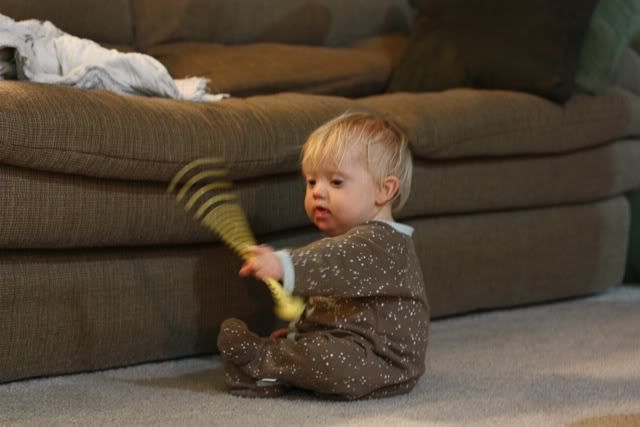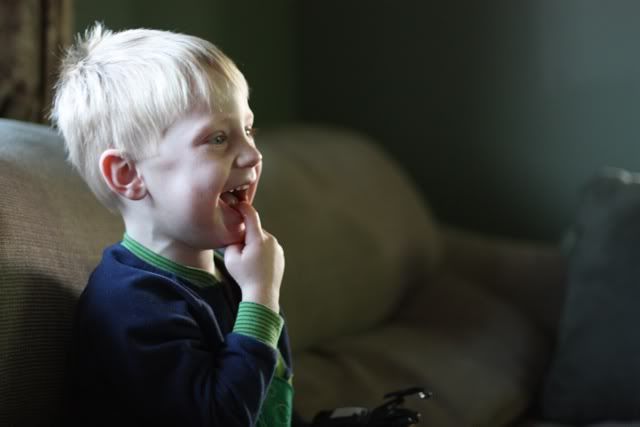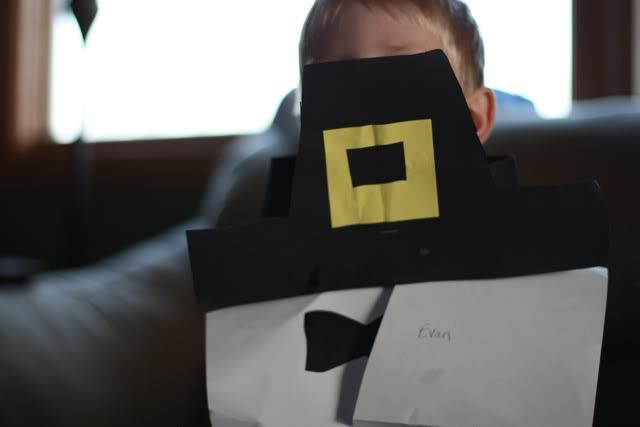 Very little helps my mood like fresh pine, a crackling fire place, music, time as a family, beautiful colors, and ornament memories. Welcome Christmas. I love celebrating Jesus!
Calvin did not help decorate this year but he enjoyed playing near us! He left the tree alone. I wonder what next year will bring?
Off to a busy week...bummer :(