(I wanted a short, more to-the-point, title for this photo-a-day challenge...so I changed it)
---------
Today is therapy day. Wednesdays Calvin has OT and ST and today his PT came to evaluate and check in. Her name is Becky. Becky has not seen Cal since his IFSP review at the end of September. In fact, we recalled her last visit was the day I first brought Cal to the dr for his pneumonia/bronchiolitis illness. She did not get to see much of him so she enjoyed watching him today. I will get back to this...
I must say that even though I do not shout out all my thoughts on here, I have many of them. I will share where I am at because I am happy with it. I am proud of myself.
For a long time I have felt pressured to do more with Calvin (not pressured by people, by myself and my own concerns). More as in therapy/teaching/guiding kind of stuff. There are many great parents out there who have many more therapy visits per week, many checklists, and many daily goals. I am not one of them. I live my life with Calvin basically as I do with Evan and Nolan. I call this "meeting him where he is at". It is a motto I learned with my jobs as a parent educator in Head Start, a resident counselor at a girls group home, and now as a school counselor. I meet people where they are at and then go from there (or at least it is my goal to do so).
Anyways, I am trying to keep this simple and to the point but it is hard with so many factors!
On Dec 23rd I brought Cal to the pediatrician for his ear-tube pre-op physical. His doctor, who basically just met Calvin, was asking me about his therapies. She invited me to bring him to the Courage Center:
What is the Courage Center?
Oh, that is our therapy center affiliated with the clinic and hospital. Some parents like to have other therapists evaluate and provide different or additional therapy. You could probably bring him in once a week.
Thank you, in all honesty, I am comfortable with where Calvin is at and besides, I simply do not feel like I can add more to my plate. I will not hesitate if either of these things change.
There you have it. I am comfortable with him and I'm too busy the way it is.
However, I did run this by Becky and asked for her opinion. We revisited the phenomenon of "medical model" vs "Birth To Three (B23 I am going to call it) model". Basically, the medical model pushes more therapy than the B23 model with the foundation of belief being B23 teaches parents what they can do in their home and the medical model is doing it for you. I am sure there is more to it, but that is part of it.
Becky said that there are therapists who believe, based on what they see, that people with Ds develop, in the same pattern, the same skills as babies/children without disabilities, it is just that it is slower. Now, given this is typically true, then why not sit back and enjoy the ride? That is what my approach is with Calvin. Now, if he had other challenges, I might feel differently. If he was older and had more to learn, I might feel differently. But for now, on day 11 of this year, I am sitting back and enjoying the ride.
I am not pushing Cal to cruise furniture or walk. I am just not that parent because I don't want to. Call it lazy perhaps. I would rather cook or clean or play hide and seek the jungle animals. So, as I am seeing Cal start to do this (see pics) I know it is not because I have been pushing him to do so. It is because he is ready for it. As I see him up on his hands and knees more, I am reminded that many children who army crawl first will develop a 4-point crawl, and Cal might too! I love that I am not responsible for all of it. I could not handle that pressure. Cal might not walk for a year (that is what Becky said she'd expect) and I am cool with that. I think that would be a nice Christmas gift!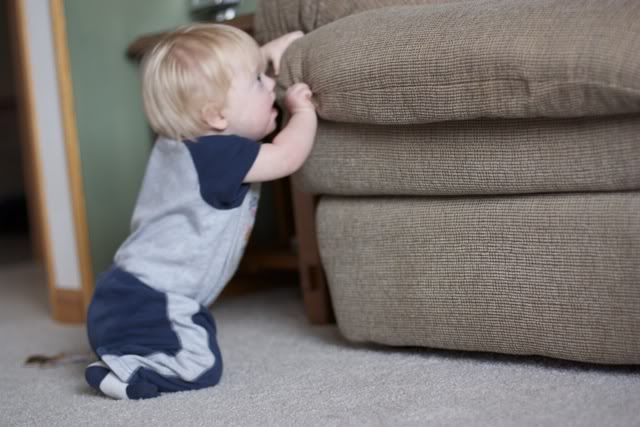 Besides, I'd rather elicite at photograph the true feelings children display towards their mother: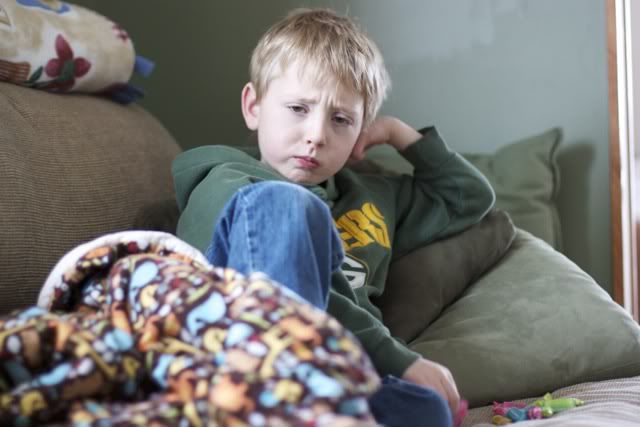 (Ev wanted me to take a pic of the tv, which had a tiger chasing some animals.)
"People with Down syndrome are always so happy!" I look forward to that extra gene starting to fire ;)