I am a school counselor at a local (and wonderful) elementary school. I work with kids in Junior Kindergarten through 6th grade. My position is 80% full time and we just ended the first half of the school year! It feels awesome because I know (or, I think I do) this will be the toughest year of my career. Of course I really am just hoping that is the case! Anyways, since I am part-time, I only have to attend 80% of the inservices. I have fulfilled that requirement and therefore was able to stay home for Friday's inservice day! As usual, I enjoyed my time with my boys. I brought Evan to school to search the lost-and-found for snowpants and boots, then headed to the gym for a run and a swim, and was home by 10. I am so blessed to have family close by. Grandma Jo Jo took the youngest 2 so I could accomplish all that.
Nolan thought it was funny to wear Cal's pants on his head (we took a big bubble bath when we got back from Grandma's).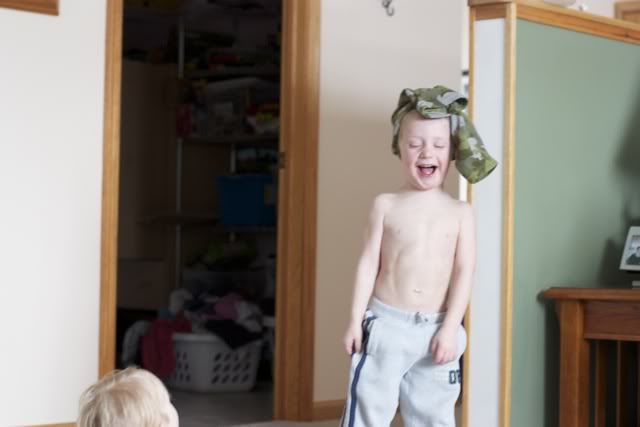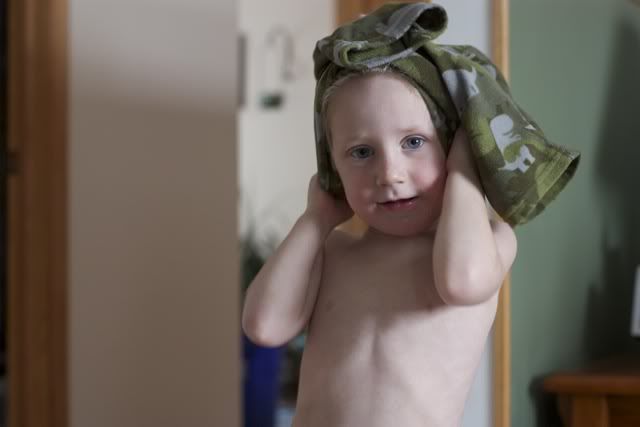 Joe was in Seattle from Wednesday until late Friday. The city was shut down so he spent 2.5 days in the hotel. I figured he would be nice and rested when he returned! I also was figuring (which is the same as assuming - something I do too much of) he would not get to fixing the cheap, broken draw that belongs on the cheap armoire in the laundry room.
The boys room is downstairs and the laundry facilities are up. We grew tired of hauling clothes back and forth and so it was decided to keep their favorite clothes right in the laundry room. It works like a charm, except when it falls apart! Therefore I got out the tools and did it myself! My parents were proud - they raised me right ;) Nolan liked the tools, of course. I caught the cross-eyes again!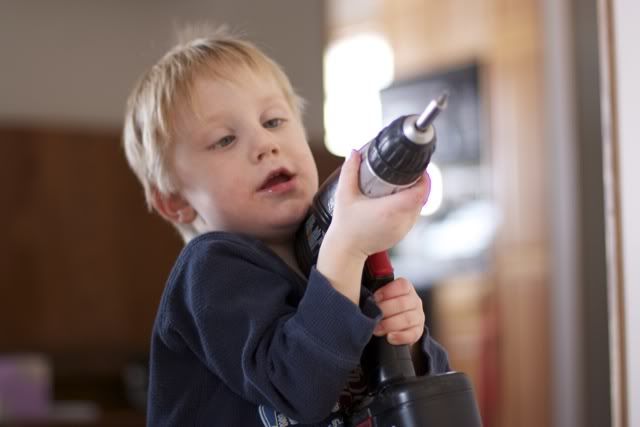 Cal and Nol played with the laundry basket and I thought Cal was looking so big standing up at it!
He is also pretty happy with himself! I like that picture :)