My mom has been so busy she asked me to write a post. Sure, like I have time! I am so busy playing and saving energy for recovering from yet another cold! That is part of the problem. I have been getting in to things a lot more, like house plants. I think it's awesome they still think they can have plants on the floor and not think I'll start to find them attractive! I am a boy after all! Hopefully they don't put them outside for the summer, but I think I over heard mom saying that after she took me away from the dirt pile this afternoon.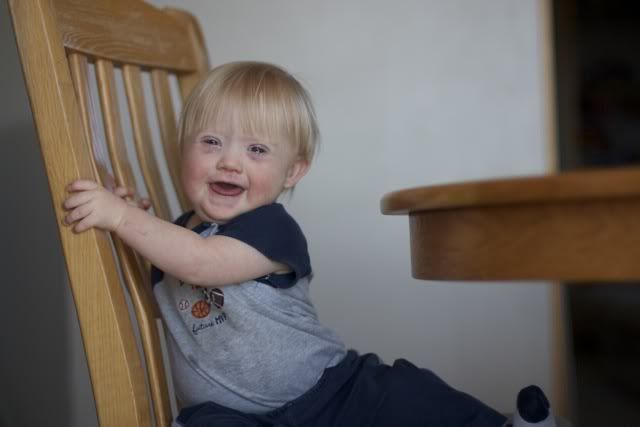 Like I said, I am saving energy for another cold recovery. I hate being sick and these tubes aren't quite covering it. They keep getting plugged and by the time they burst through, I have an infection. It's gross and I cannot hear very well. I need to hear when Nolan is coming! And, my mom wants me to start saying something, like 'momma' or 'dadda'.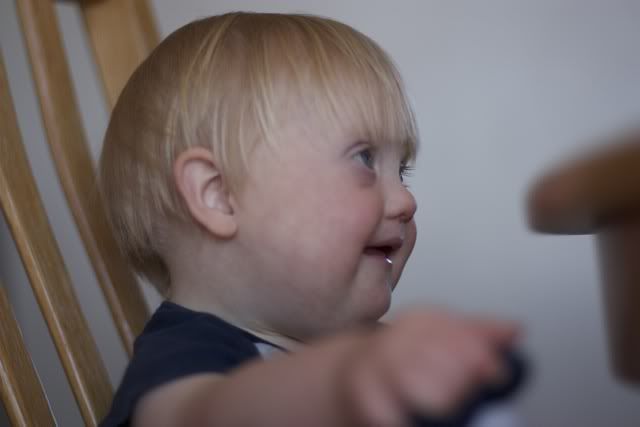 I have my own language and I love blowing her kisses. Speaking of love, now that I can pull myself to standing so well I do enjoy going up to Mom when she is sitting on the floor. I pull myself up and give her hugs and let her hug me. We both like it very much!
I figure I best be giving her lots of hugs since I still don't sleep very well. Last Thursday grown ups discovered these molars poking through. Yep, just shy of 20 months! Finally getting some chompers, but not enjoying the process. Teething plus a cold makes for some serious misery and complaining. Mom and Dad have been stressed. I remind them I don't try to make them miserable!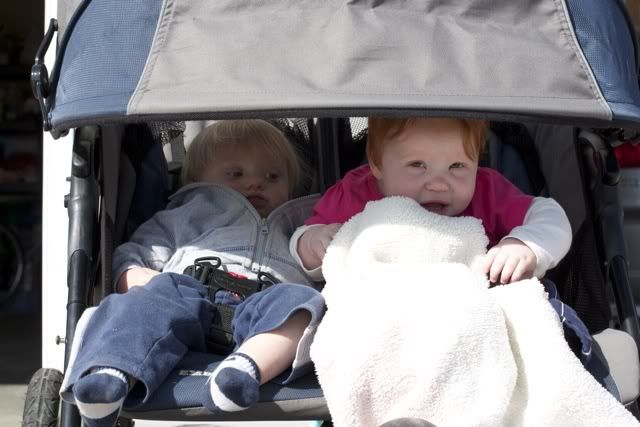 (me & Baby Adrianna)
Something that might help is that I am having my adenoids removed next Friday. So much for 'good' Friday! And, I have to have my ear tubes replaced. Dr. Becken thinks cleaning everything out will help so I do not keep getting so many sinus, ear, and eye infections. I sure hope so!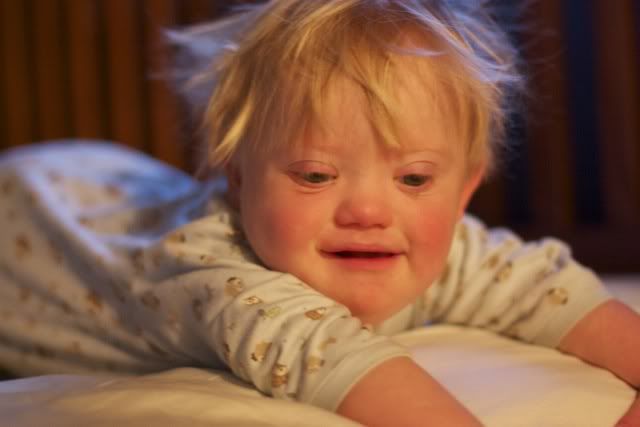 The biggest bummer is I have to spend the night at Children's in St. Paul. Dad asked, "Why don't we just move in there?". Talk about dramatic! (These pictures were taken after I woke up in Mom and Dad's bed - a place that I don't always cry about being in the middle of the night. I am sporting some nice bed-head. Do you think the ladies will like it? Maybe Cora or Kristen or many of the other girls mom reads about?)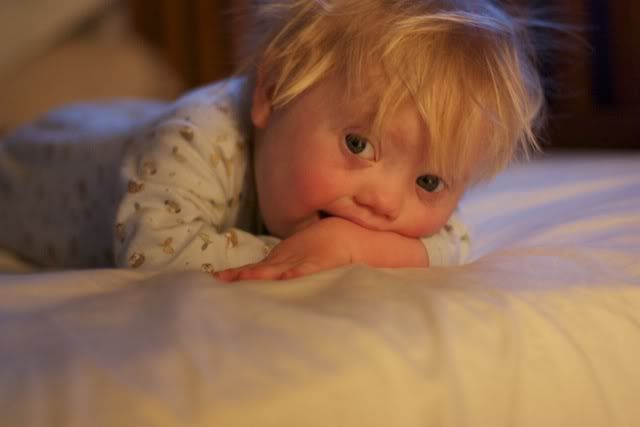 My mom is trying to harvest the money tree before it has matured. She wants her new camera "to study and learn while we are at the hospital; to pass the time". I sure hope she gets it! She is pretty excited about this photography business!
Mom says she is not sharing a lot yet because she wants "the pieces in place" before she does. I'm not quite sure what that means, but she has been meeting with people and spending a lot of time learning. She has a new mentor, Beau Petersen of BP Photo. Beau actually went to school with Dad and he took their wedding pictures almost 10 years ago! Beau is nice. Grandma Linda has his daughter in her pre-school class and Beau and Bethany have been at some of my uncles weddings, taking photos.
They also took photos of my new BBF's parents when they got married. Yeah, you know Will? He is pretty cool, like me. I just hope we don't fight over the ladies. We are going to make a good lookin' pair! Mom took this photo of him last weekend:
Well, that's all for now. I am sick of the computer. I'd rather play in dirt. Or with my toes. Besides, I am much too squirmy for this!