Calvin has had his adenoids out for a month now. He has a little cold and it is not amounting to much, so that is a huge success! He has slept through the night twice in the last week (and I hope tonight as it is late and I'm going to pay tomorrow morning!).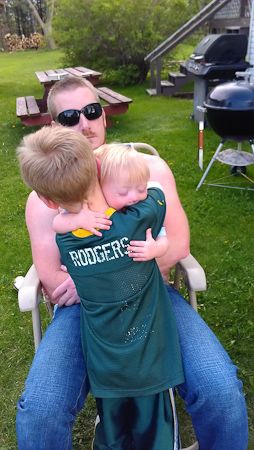 As I put A and B together I started to question his supplement regime. He was up to 1/2 tsp of Nutrivene D, 1/4 tsp curcumin, extra vitamin C, choline, and sometimes the daily enzyme from Nutrivene. I would also give him extra melatonin along with the Nutrivene D nighttime supplement.
I called the company and was left with a promise to have some 'know-it-all' (in the sincerest sense) call me back. Sure enough, some big-wig called me back and spent 20 minutes with me on the phone. We came to the following conclusion:
1. Feed Calvin smaller meals, more often
2. Make sure Calvin's meals are thick!
3. Cut the extra vitamin C, curcumin, choline, melatonin, and nighttime supplement (we also talked about his junky sleeping)
4. Cut the daily supplement in half, so down to 1/4 tsp a day and split that between 2-3 meals, with the last dose no later than 5pm
5. Continue with the probiotic
6. I forgot to mention the Omega 3s, so we're continuing with those.
In summary, Calvin now only takes the daily supplement twice a day (1/8 tsp each time), a probiotic, and the omega's.
Finally, I was sent a sample of the daily supplement that does not have the vitamin C or 2 other enzymes - I forget those at the moment. He has been on this version a week and is doing well.
Overall I have to say I am noticing a large improvement. There is still some reflux but we discussed this and it most likely will diminish as he becomes more upright. I am continuing with a dairy and gluten free diet for Calvin.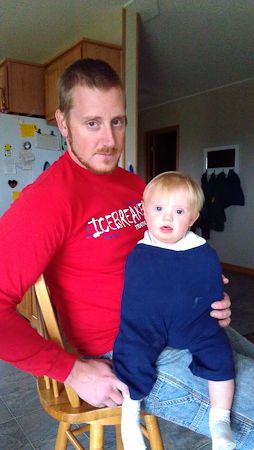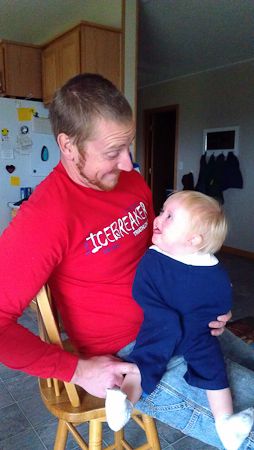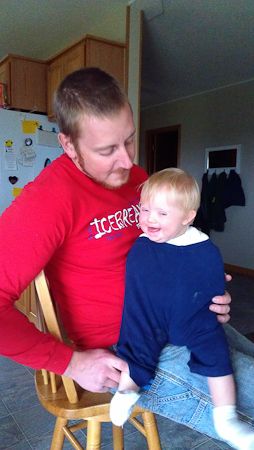 (Joe likes to hike the kid's pants up and proclaim they represent my Grandpa Sykora)
There you have it! Excellent customer service with NuTriVene (I miss spelled above, oh darn)! So thrilled with them, as I was back before Cal's heart surgery and they got back to me quickly after I presented them with a question via email.