Calvin's dad asked where the eye appointment was at. Why is that a big deal? For one, I am giving up on feeling like I need to be present for all his health appointments and two, if I should die (which I will, but I mean in the next 2 years years) Joe will know where to take Calvin for his eye appointments and three he also knows what I go through! Letting go; it feels amazing...oh, and his eyes? Great! So, my fear (which is old) of Calvin needing glasses was once again, wasted energy!
Always happy? I think not! Nolan to the rescue! They are still quite the pair, which I realize I do not blog enough about these busy days!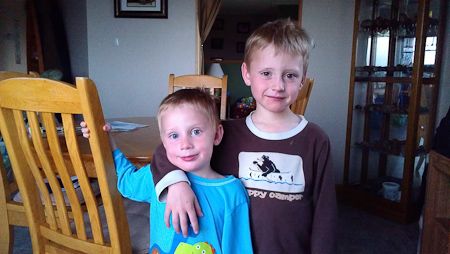 Evan and Nolan came up all cute and sweet, wanting to talk about their trip to Aunt Chrissy and Mike's last Friday, the night before the triathlon. They make me miss them and it is a good reminder to enjoy them.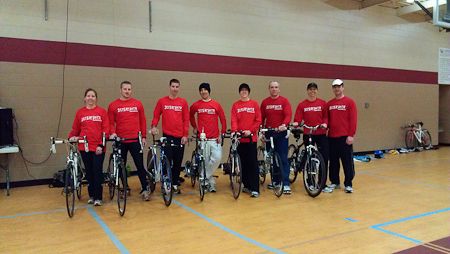 I did not 'bare' all at the triatholon. But, I did wear thin undies under some shorts and shed the shorts before throwing pants on for the 13 mile bike out in the windy cold! It went very well and I am grateful for the experience. I am also realizing this is more a lifestyle than just running.
My goal was 1:45 and I finished in 1:39, placing me just inside the top half of 15 women. I felt great after and could have given it more, but I just didn't know. The worst part?? Numb toes which I think is nearly resolved thanks to Chris (3rd from left and 1st place for men) adjusting my bike last night. I am looking forward to a different summer in the exercise field!
We celebrated Grandma JoJo's birthday!
A post about the garden will be in order here very shortly! So many things to blog about and such little time. I still need to post about the supplements...and update the blog pages...and, you know how that goes!
Evan and Nolan played so nice and Cal just wanted in on the action!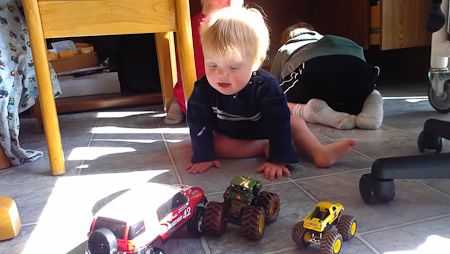 My heart flutters with Joy every time I see him be a typical 1 year old boy - and it is 99.999% of the time! Like when he pulls his socks off 3 seconds after we put them on, or when he plays peek-a-boo with Grandma Linda, or when he prefers trucks over dolls. This is the life and I wish more people got to live it!!